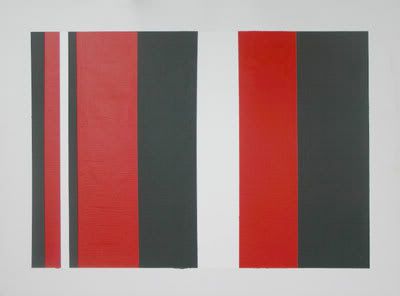 T. Renner, "The Birth of the Cool: Move," 2008, acrylic on canvas, 24" x 18".
"St. Louis Hard-Edged Abstraction: 12 Paintings (The Birth of the Cool)" will open on Friday, October 17, at Left Bank Books, 399 North Euclid, St. Louis, Missouri, 63108.
In this show, my work is very influenced by the hard-edged abstract painters of mid-century such as Helen Lundberg, Lorser Feitelson, John McLaughlin, and Barnett Newman. Each of the pieces in the show has been named after a track on Miles Davis' album "Birth of the Cool." The pieces are composed of red, black, or white vertical stripes of various widths arranged as a series of pairs. "The Birth of the Cool" explores both repetition and self-imposed limitations.
Please note that the Mildred Lane Kemper Art Museum on the campus of Washington University has just opened a fabulous exhibition called "Birth of the Cool: California Art, Design, and Culture at Midcentury."
According to the Kemper website:
"Birth of the Cool: California Art, Design, and Culture At Midcentury" takes a look at the broad cultural zeitgeist of "cool" that influenced the visual, graphic, and decorative arts, furniture, architecture, music, and film produced in California in the 1950s and early 1960s. The exhibition, organized by the Orange County Museum of Art, includes a jazz lounge; a media bar with film, animation, and television programming; a period art gallery of hard-edge abstract paintings; selections of art, architectural, and documentary photography; and an interactive timeline that highlights examples of California, national, and international culture and history in the 1950s.