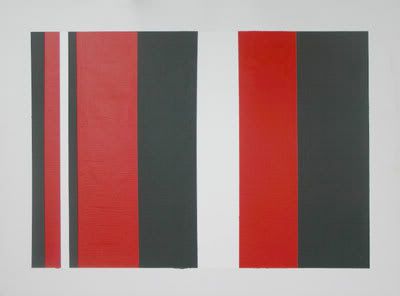 T. Renner, "Birth of the Cool: Move", 2008, acrylic on canvas, 24" x 18".
I've been doing a radio show,
"The Scientific Method," on 90.3 FM KWUR.com
-- the campus station of my alma mater, Washington University in St. Louis -- for a few semesters now. The show started as a straight-up jazz show, took a turn towards the blues, turned back to 1920s jazz, and this coming fall semester will focus on "cool" or "West Coast" jazz.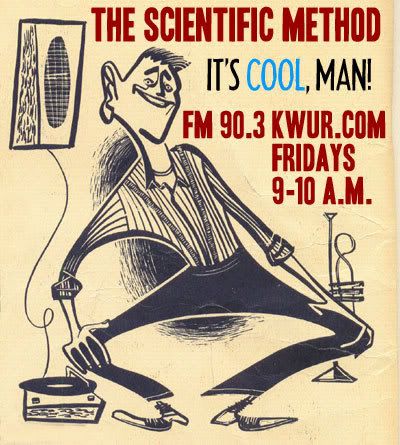 (Note: cartoon is by
Gene Deitch
, who drew for "Record Changer," a jazz fan magazine published from 1941 until 1957.)
The sound of Gerry Mulligan, Chet Baker, Miles Davis circa "Birth of the Cool," etc., has always appealed to me -- and has been part of the show all along -- but the reason for the focus on "cool" is the exhibition
"Birth of the Cool: California Art, Design, and Culture At Midcentury"
opening at the Mildred Lane Kemper Art Museum on the Wash. U. campus on September 19.
According to the Kemper web site, the exhibition will take "a look at the broad cultural zeitgeist of "cool" that informed the visual, graphic, and decorative arts, furniture, architecture, music, and film produced in Southern California in the 1950s and early 1960s. The exhibition, organized by the Orange County Museum of Art, includes a jazz lounge; a media bar with film, animation, and television programming; a period art gallery of hard-edge abstract paintings; selections of art, architectural, and documentary photography; and an interactive timeline that presents a snapshot of California, national, and international culture and history of that era. 'Birth of the Cool' examines the dynamic community of artists who overlapped and interacted in Southern California at midcentury -- Chet Baker, Miles Davis, Gerry Mulligan, Charles and Ray Eames, John Lautner, Richard Neutra, Helen Lundeberg, and others who played a seminal role in the development of the iconic high modernist style."
I'm also working on a series of hard-edged abstract paintings for a series called "Birth of the Cool." Each painting will be named for a track from Davis' "Birth of the Cool" album.
T. Renner, "Birth of the Cool: Jeru", 2008, acrylic on canvas, detail.