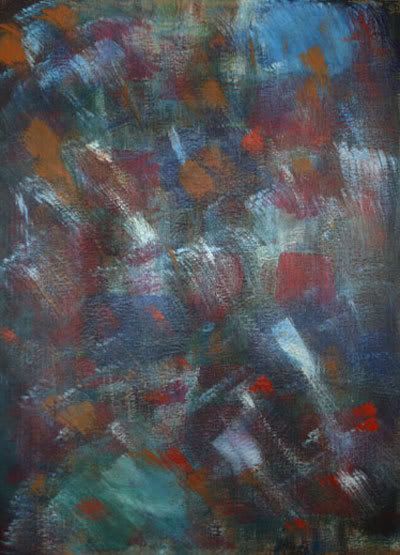 T. Renner, "Not Even #1," 2008, acrylic on corrugated cardboard, 2' x 3'.
Friends, you can bid on "Not Even #1" at Art Saint Louis' 17th annual fund-raiser,
Grape Arts XVII
, to be held from 2:00 to 6:00 p.m. on Sunday, March 22, 2009, at Windows Off Washington in downtown St. Louis, Missouri.
For additional information on Grape Arts XVII, or to support next year's event, contact Kate Poss, Art Saint Louis Marketing & Development Director at 314/241-4810, (3#) or kate@artstlouis.org.
Here's more information from the Art Saint Louis web site:
Held from 2:00 to 6:00 p.m., Grape Arts XVII is an exciting and energetic afternoon of art & wine. There will be four silent auctions and one mini-live auction where guests will be able to bid on hundreds of original artworks, unique items and gift certificates for area restaurants & businesses.

In addition to the silent auctions, there are two different and unique types of wine tastings presented throughout the afternoon: from 2-4 p.m. fifteen wineries & wine merchants pour wines for guests during our Informal Tastings; then, from 4-5:30 p.m., guests are directed to the main event ballroom where they are seated at tables of nine. Guests are then treated to Formal pourings wherein they will have the opportunity to taste international, national and regional wines poured & presented by wine aficionados, vintners, wine merchants, restaurateurs, and collectors.

This year's Artist Donors and the kinds of artwork donated to-date include:

CERAMICS by: Marianne Baer, Rhonda Cearlock, David Meyerkord, Nancy Young Spence, Yael Shomroni

DIGITAL MEDIA by: Deann Rubin, Tony Schanuel

DRAWINGS/PASTEL by: Gloria Anderson, Jennie Collins, Stephen Eidson, David Kaskowitz, Julie Stritzel

FIBER/TEXTILES by: Joyce Briscoe, Rosemary Claus-Gray, Anne Cove, Marjorie Hoeltzel, Patrick Nolan, Dawn Ottensmeier, Barb Poss, Luanne Rimel, Barbara Simon, Jerri Stroud

GLASS by: Caroline Bottom Anderson

HANDMADE BOOKS by: M.J. Goerke, Joanne Kluba

HANDMADE PENS by: Steve Levit

JEWELRY & METALSMITHING by: Randi Chervitz, Elena Keller, Our Love Creations, Roger Rimel

MIXED MEDIA by: Carol Corey, Sean Frye, Carlene Fullerton, M.J. Goerke, Anukriti Sud Hittle, Leasa Mayfield, Kim Mosley, Alex Paradowski, Marceline Saphian, David Sextro, Mary Beth Shaw

PAINTINGS by: Terrell Carter, Carla Dawson, Naxin Fan, Ron Flier, Donna Grote-Hasegawa, SJ Hammack, Charlie Houska, Sheldon Johnson, Marlene Lewis, Marlene DiFiori Locke, Vic Mastis, Darnell Malone, Julie Malone, Sukanya Mani, Elizabeth Menke, Henryk Ptasiewicz, Jane Reed, Tony Renner, Barbara St. John, Galina Y. Todorova, Victor Wang, Jennifer Weigel, Ken Worley, David M. Yates, Yingxue Zuo

PHOTOGRAPHS by: Greg Barth, Mark A. Fisher, Rick Forrestal, Marian W. Hirsch & Jeff Hirsch, Maurice L. Hirsch, Jr., Cary Horton, Edward Klostermann, Greg Kluempers, Ken Konchel, Audrey Levit, Craig Newsom, Marion Noll, Linda Pilcher, Naomi Runtz, Barbie Steps, Wendy L. Werner, Kay Wood, David M. Yates, Barbara Zucker

PRINTMAKING by: Stephen M. DaLay, Ruth Kolker, Amy Firestone Rosen, Mary Gardner Russe, Marceline Saphian, John Schnellmann, Jeffrey Sippel.

SCULPTURE by: Cathy Barancik, Mitch Horstmann, Mary Ann Swaine, H-OMER.