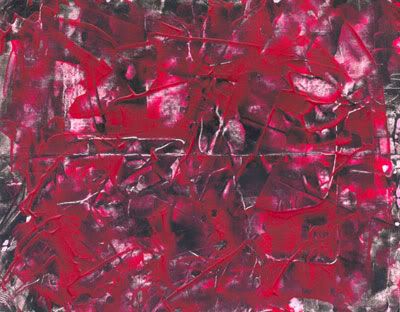 T. Renner, "The Science of Dreams (for Glenn Branca)," 2008, acrylic on paper,
From the St. Louis Symphony's web site:
David Robertson and the SLSO host a celebration of one of the most popular instruments in the world. The Guitar Festival makes its way to different venues throughout the city, with extraordinary guest artists and some of the finest local talent to be found.

At the Pageant hear music of Frank Zappa and Edgard Varèse, along with Glenn Branca's symphony written for 100 electric guitars, with composer/ guitarist Steve Mackey and John Patitucci joining 98 St. Louis guitarists. Mackey again plugs in, along with Jason Vieaux, for chamber concerts at the Pulitzer Foundation for the Arts. At Powell Symphony Hall, John Patitucci plays a work for electric bass and electric bass guitar. In November, St. Louis is GuitarLand.
Due to my lack of ability to follow a written score, I won't be part of the 98 St. Louis guitarists performing Branca's symphony. However, I recorded my performance at the Lemp Neighborhood Arts Center on November 3 and, thanks to the magic of the internet, you can listen to it by clicking
here
. The performance is called "Science of Dreams (For Glenn Branca)."