My final class based on the "Immediate Touch" exhibition at the St. Louis Art Museum was by far the most fun.
Prior to the class the instructor, Jesse Thomas, had taken photographs of various pieces in the museum's general collection and had printed them out on transparent film.
After choosing a photograph students were sent out into the galleries to make a pencil sketch, from a different perspective, of the subject in their photograph. Then, students were to return to the classroom to add India ink to their drawing.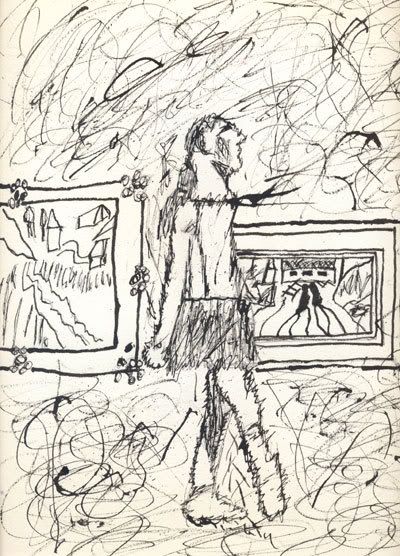 I particularly like my drawing because of the contrast between the rather chaotic marks that define my take on Degas' sculpture and the cartoon-ish representations of the two Van Gogh paintings on either side. I also like the swirls, loops, and spatters filling the background of the drawing.
Before adding any ink to my drawing I revisited the "Immediate Touch" exhibit to examine the work of Max Uhlig, Georg Baselitz, and Franz Gunzel. Without their influence, my drawing would have been much more sedate, and the work as a whole would have been much less successful. The final step in the exercise was to lay the transparent photograph over the drawing.
Self-grade: A.
"The Immediate Touch" will be on exhibition at the St. Louis Art Museum through September 7.
According to the SLAM web site:
"'The Immediate Touch: German, Austrian and Swiss Drawings from St. Louis Collections, 1946–2007,'
includes more than 120 provocative works of art created after World War II by such influential artists as Georg Baselitz, Joseph Beuys, Hanne Darboven, Anselm Kiefer, Blinky Palermo, Sigmar Polke, Arnulf Rainer, Gerhard Richter and Dieter Roth. The exhibition includes private explorations into the aesthetics of the drawn line, preparatory sketches for sculptures and highly finished works that are the size and scale of large contemporary paintings."